Purpose of document
The purpose of this document is to keep track of the building of the JDT Himax aircraft built by me, Lyle Crane. In my haste and excitement of building the aircraft, I forgot to keep a log of the building of the aircraft. I did take pictures but, about 3 months into the project, lost the memory card the pictures were stored on. I will now need to recreate these pictures as well as keep a log of past and future building. This document will allow me to reconstruct the current build using existing receipts that I have for the purchase of materials into a log format. This document will also allow me to give a visual log of my work.
Aircraft decision
I began thinking about building my own aircraft soon after taking lessons in 2000. At that time, I was discouraged from attempting this task as it would be too time consuming and a majority of amateur built aircraft were never built to their completion. I accepted this information as fact and decided that I would pursue purchasing a commercial built aircraft, such as a Cessna 150 or 152, until such time as I could purchase a kit for an experimental aircraft.
While living in Kansas and soon after completing my private pilots license, I began researching what would be involved in building my own aircraft. I first began searching on the Internet and found a site in Hays that made a kit aircraft call the Coyote by Rans. I visited the factory and took an opportunity to test fly a finished aircraft. Although I was very impressed with the agility of the aircraft, the price of over $14000 was too much for my current budget.
After moving to Arizona in 2003, I again began looking at various kits on the Internet and looking at designing my own aircraft. The idea at that time was to still purchase a commercial aircraft and then look at building a kit aircraft later. In 2008, I began working at Arizona Aviation Flight Services as a web developer in exchange to flight time. At that time, it became apparent that the price of owning a commercial aircraft was much higher than I had first thought. Beside the initial cost of the purchase, there was the addition cost of maintaining the aircraft along with fuel costs with "day to day" flying. These costs would easily exceed $150/hr. for flying the aircraft in addition to payments for the loan of the aircraft.
In the spring of 2008, I began the search again on the Internet but expanding my look at Ultralights along with LSA and full aircraft. Due to the difficulty of getting a loan for an experimental aircraft, it was decided that I needed on that I could pay cash for as the money became available. I also considered a plan built aircraft instead of a kit built aircraft as I could buy materials easier then buying large parts of kits for hundreds or even thousands of dollars. However, at the local EAA meeting, I was discouraged at looking at a plan built aircraft as it would be too difficult to build and kit aircraft would get my flying sooner.
While taking lessons at Arizona Aviation for a tail dragger endorsement, I decided to look at an aircraft that had similar flight characteristics as the Champ that I was flying. I came across the JDT Himax that had similar flight characteristics and, when I contacted the designer, found that the staff and designer were very helpful in the many questions I had. The aircraft was also advertised as "If you can build a balsa wood model aircraft, you can build this aircraft." I got on a forum and discussed if this claim was true and several builders of the Himax and the Minimax agreed. I went back to Arizona Aviation and showed the web site to my flight instructor and he agreed that the Himax looked like a viable solution.
I also decided on a wood aircraft construction for various reasons. First, it is a material I am familiar at working with. Although special care needs to be taken in choosing aircraft quality wood, this quality of wood is easily available at Spruce Aircraft in California. Second, wood has the benefit of being easy to fix many mistakes. A hole or slot cut in the wrong location can be filled and glued shut then re-cut in the correct location.
Build Plan
As I got the plans, I decided to start building the aircraft on the porch of the apartment that I was living at. I also decided that I would build the "starter kit" of the plan which was the vertical stabilizer. This would let me learn how to build and to see if I had the skills to continue building. I also decided to adopt a philosophy that it didn't matter if I actually finished the aircraft, along as I had fun building the aircraft. To that end, I decided to build the aircraft in the following steps:
vertical stabilizer
rudder
horizontal stabilizer
elevator
ribs
landing gear
At this point, I will no longer have the space to continue building in the apartment and have move to a storage unit or a hanger. My current plan is to rent a partial hanger from Don Roth, the owner of Arizona Aviation, and continue building there or move to a 10x20 storage unit on McKellips and Val Vista. At that point I will continue with the following steps:
wing construction
fuselage
skin
paint
engine installation ( The current budget would take me one year at $80/payday to save up enough to buy a Rotax 447 for approximately $2000. )
I also decided to build on a "three year plan" as this would fit my current budget. As my budget might increase or bonuses might become available, some of this money could be diverted to the construction of the aircraft and allow me to move ahead of the plan.
Update:
Ok. Due to the recession and losing my jobs multiple times, building has slowed down. My "three year plan" has now turned into a "maybe a five year plan". As of 1/1/13, my plan is to finish in 6-12 months. But, that depends on money and how much I can save. Family first, airplane second.
Lastest build logs
Total Hours: 875.90
05/25/2014
Build Hours: 5
Finally put the tail back on the fuselage this weekend. Had to restring the rudder/tail wheel cables after reading an article on the EAA website. Ordered new cable and used the double crimp method recommended by EAA. After stinging up the cable, I saw the rudder cable tangeld up in the static port system. Luckily, the rudder was not cirmped and untangeld it from that side.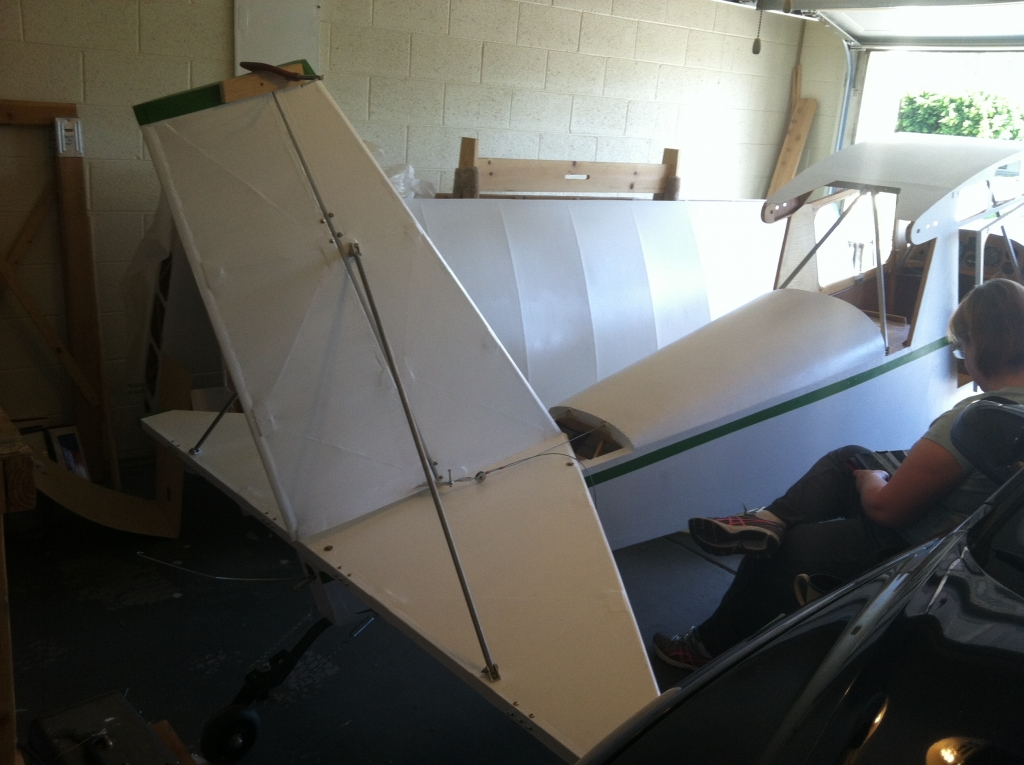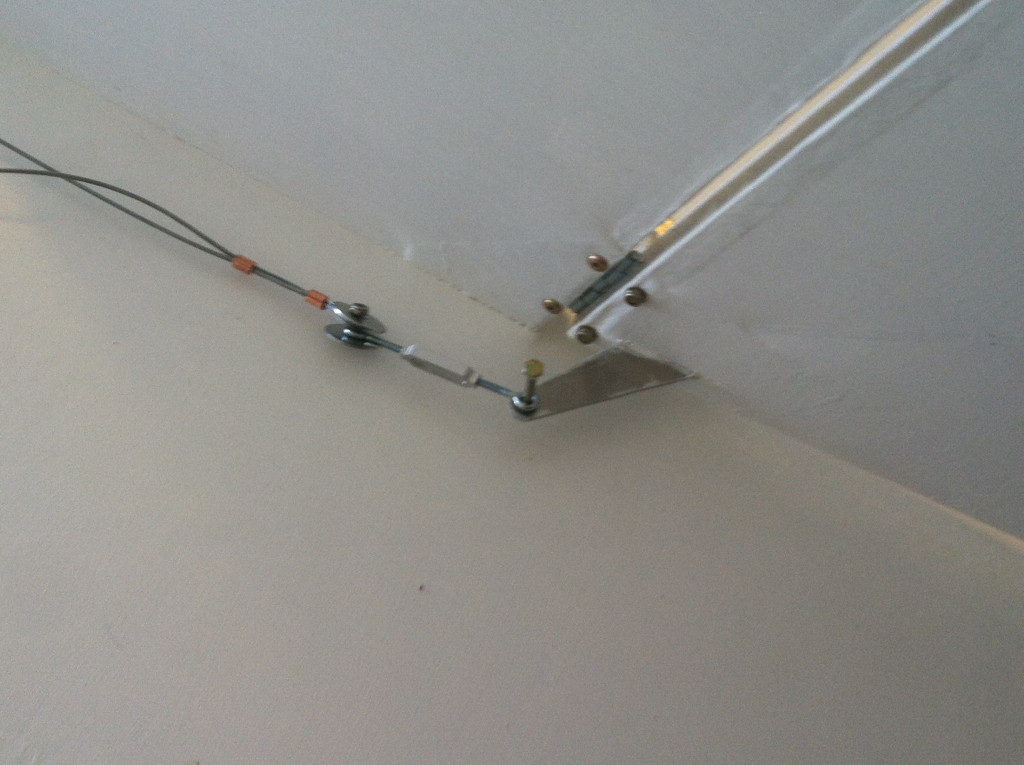 Add Comment
05/07/2014
Build Hours: 4
Finished painting the door and put the hardware back on it. Decided to replace the supports bolts with hardened steel bolts and the screws to #4 sheet metal screws.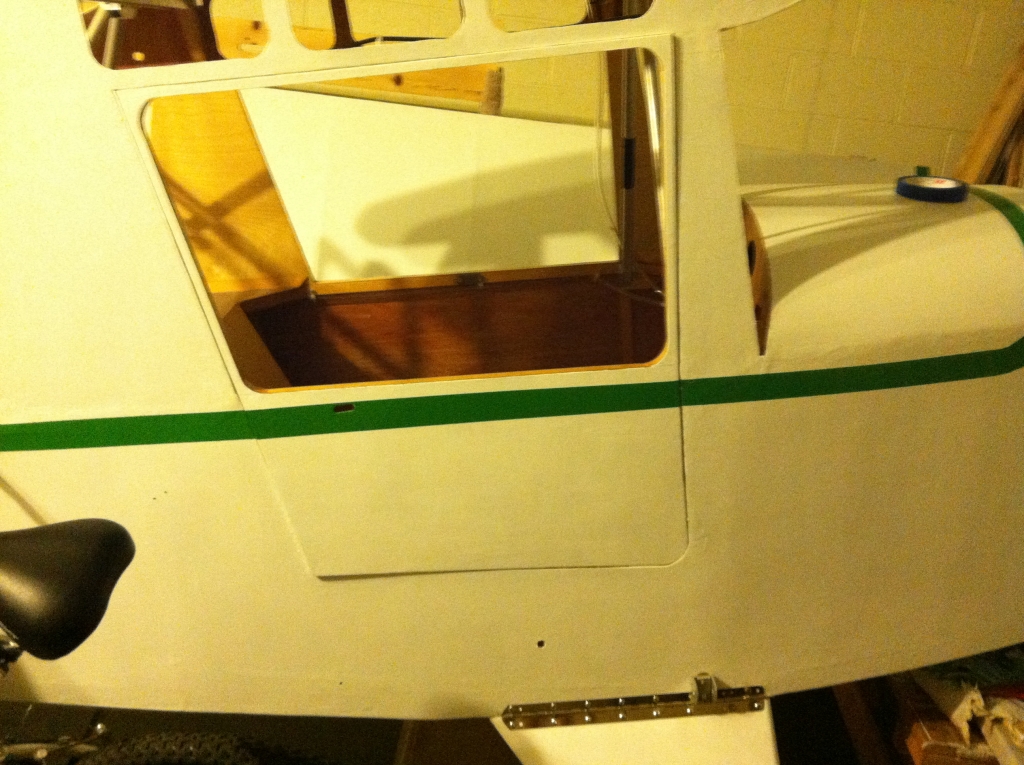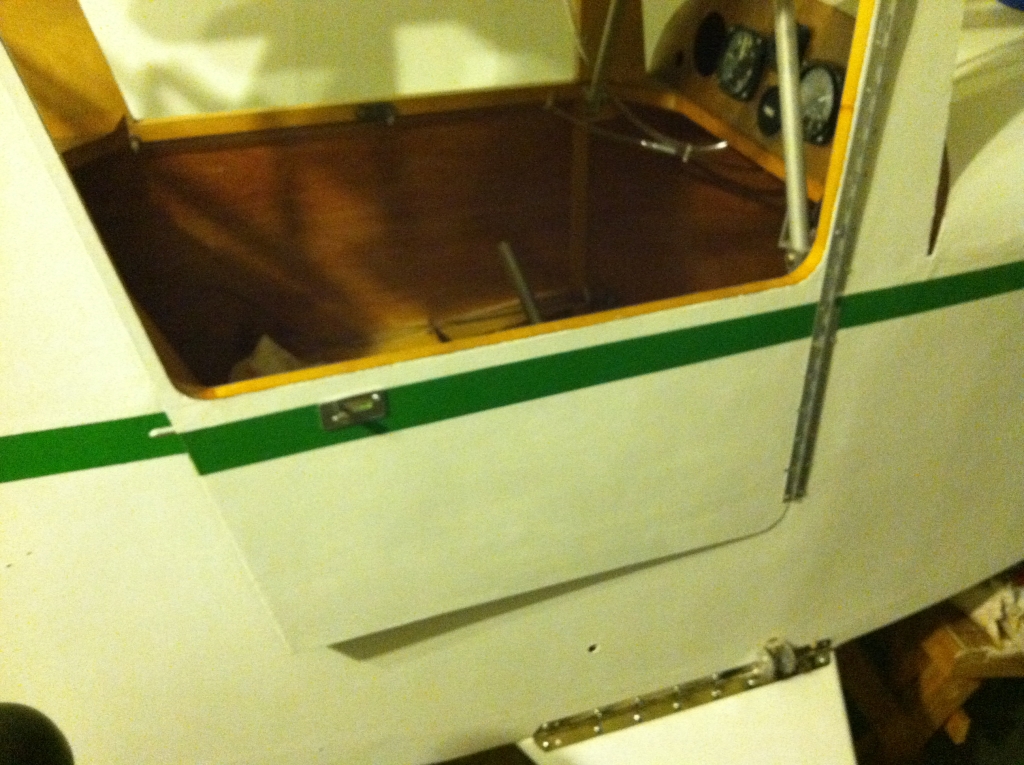 Add Comment
05/05/2014
Build Hours: 0.25
Applied a second coat on the stripe.
Add Comment
Latest photos